The Band Perry Announces 'We Are Pioneers' World Tour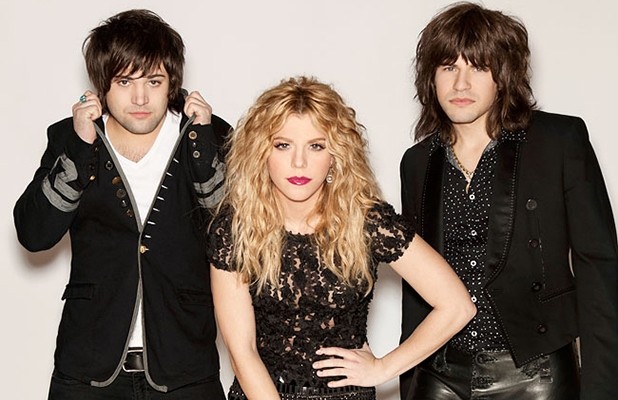 Award-winning family trio The Band Perry today announced the WE ARE PIONEERS WORLD TOUR, their first worldwide headline arena tour in support of their heralded album, PIONEER. The WE ARE PIONEERS WORLD TOUR will kick off in Gothenburg, Sweden on November 8, 2013 at Tradgarn and crisscross Europe for five weeks before the band jumps back across the Atlantic blazing trails across North America. Click here for sneak preview!
"We live to play. In our minds everything we do – writing, recording, interviews, appearances – is the means to the live end. To fully and totally understand our band, you have to see us live.  It's the three of us in our element, our living room, our therapy session, our recess. We can't wait to bring WE ARE PIONEERS to the world, " says Kimberly Perry.
Throughout the WE ARE PIONEERS WORLD TOUR, The Band Perry will debut an entirely new show, including a new set, sound, lights and even a few new tricks.  On the run of European dates, various local acts will be in the support slot on the tour, and starting on January 9th Easton Corbin and Lindsay Ell will join The Band Perry on the North American dates for what is sure to be one of the most sought after tickets of the touring season. At the end of a Band Perry show, audiences walk out with smiles on their faces, knowing that the band left nothing to the imagination – the family trio pour every bit of themselves into their shows.   See a list of dates below, with more to be added in the coming weeks.
No strangers to life on the road, The Band Perry have been on tour approximately 850 of the last 915 days, captivating audiences not only in the United States, but also in Australia, Canada and Europe.  This summer alone, The Band Perry shattered attendance records at multiple arenas across North America and have played to over half a million people, no simple feat for a band on just its second album.
"Marching forward and making noise together. That's what a Band Perry show is all about. There are these moments that we've built into the show when the three of us and our band are like an army or a marching band.  Us, our band, and the crowd – it's like we're a team, and we're all in it together.  We are very fortunate that we get to walk on stage and do what we love to do – and it's our fans that have given us that opportunity.  We sincerely appreciate each and every one of them, and we are looking forward to meeting new people across the world and making The Fans Perry a global community," says Reid Perry.
"We believe pioneers are everywhere. Big and small, young and old, on North-American shores and abroad – we are coming to find you!" says Neil Perry.
Europe Tour Dates
November 8 – Goteborg, Sweden – Tradgaarn
November 10 – Stockholm, Sweden – Cirkus
November 11 – Skien, Norway – Ibsen-Huset
November 12 – Oslo, Norway – Folketeateret
November 13 – Trondheim, Norway – OlavsHallen
November 15 – Helsingborg, Sweden – Tivoli
November 16 – Randers, Denmark – Vaerket
November 18 – Cologne, Germany – Stadtgarten
November 19 – Hamburg, Germany – Knust
November 20 – Berlin, Germany – Columbiaclub
November 22 – Munich, Germany – Strom
November 23 – Zurich, Switzerland – Mascotte
November 25 – Paris, France – Le Divan du Monde
November 26 – Amsterdam, Netherlands – Melkweg
November 29 – Birmingham, United Kingdom – The Institute
November 30 – Glasgow, United Kingdom – ABC1
December 1 – Manchester, United Kingdom – The Ritz
December 2 – London, United Kingdom – The Forum
December 4 – Dublin, Ireland – Vicar Street
December 5 – Belfast, United Kingdom – Mandela Hall
North America Tour Dates
January 9 – Penticton, British Columbia – South Okanagan Events Centre
January 10 – Kamloops, British Columbia – Interior Savings Centre
January 11 – Prince George, British Columbia – CN Centre
January 12 – Dawson Creek, British Columbia – Encana Event Centre
January 15 – Red Deer, Alberta – Westerner Park / ENMAX Centrium Arena
January 16 – Lethbridge, Alberta – ENMAX Centre
January 18 – Regina, Saskatchewan – Brandt Centre
January 21 – Sudbury, Ontario – Sudbury Arena
January 22 – Kitchener, Ontario – Kitchener Memorial Auditorium Complex
January 23 – Oshawa, Ontario – General Motors Centre
January 24 – Kingston, Ontario – K-Rock Centre
February 6 – Independence, Mo. – Independence Events Center
February 8 – Bemidji, Minn. – The Sanford Center
February 9 – Grand Forks, N.D. – Ralph Engelstad Arena
February 13 – Dubuque, Iowa – Five Flags Arena
February 14 – Kearney, Neb. – Viaero Event Center
February 15 – Rapid City, S.D. – Rushmore Plaza Civic Center
February 16 – Billings, Mont. – Rimrock Auto Arena At MetraPark
February 20 – Rockford, Ill. – Harris Bank Center
February 21 – Cape Girardeau, Mo. – Show Me Center
February 22 – Corbin, Ky. – Corbin Arena
February 23 – Saginaw, Mich. – Arena at Dow Event Center
February 27 – Green Bay, Wis. – Resch Center
February 28 – Mankato, Minn. – Verizon Wireless Center
March 1 – Duluth, Minn. – Duluth Ent. Conv. Ctr. Arena
March 2 – Cedar Rapids, Iowa – U.S. Cellular Center
March 7 – Savannah, Ga. – Savannah Civic Center
March 20 – Macon, Ga. – Macon Centreplex
March 21 – Saint Augustine, FL – St. Augustine Amphitheatre
March 22 – Estero, FL – Germain Arena
Subscribe now to:
-Access the latest Media/PR Info for thousands of Music Artists, Sports Teams, Celebrities, and more.

-Search 60,000+ Upcoming Events and track events you're covering.

-Promote your website & photos by creating a photo gallery.

-Receive assistance locating contact information for a Music Artist, Sports Team, or Celebrity (even if not listed on our website).